An anthology of London-based comics creators' stories
For much of this year I've collaborated on organising events and workshops with the WIP Comics meetup group with some other plucky volunteers. September marked the achievement of a real milestone: Publishing our group's anthology, Ye Olde Axe. I had felt that participating in the organisation of workshops and feedback sessions through March to August was plenty, yet while I declined to have a direct hand in the process that it's taken for printed books to materialise, I'm really proud of the group's accomplishments and applaud intrepid editor Matthew Duncan for steering it through.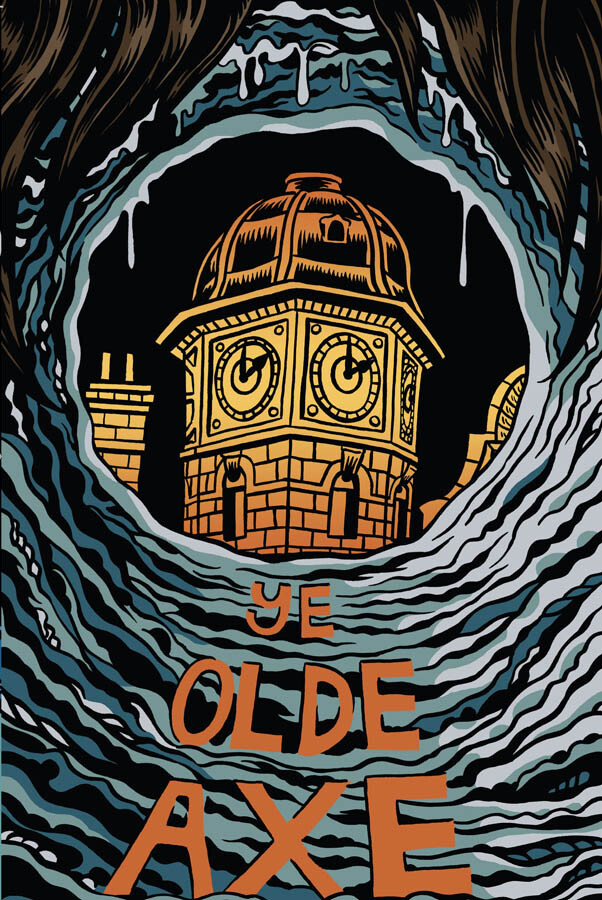 The unusual unifying factor across the diverse contributions is a building in Shoreditch, the anthology's namesake Axe. I get a little creep of a horror vibe from many of the stories, though genres span comedy, parody, action, fantasy, gag strips, slice-of-life and more. There are some real gems inside, my favourite is best described as Cthulhu meets Monty Python!

I hear that some copies are wending their way over to Gosh! Comics on Berwick Street, so please have a look if you get a chance!
Cover artwork by the talented Tim Hassan.